Tech Startup Funding
7 early signs that your startup will fail
This was posted on Facebook by BRW.  Very interesting reading!
Published 08 July 2014 10:53, Updated 08 July 2014 10:54
Source: Alexis Knight
If one or more of the following scenarios apply to your startup, you need to change them quickly or go back to the drawing board.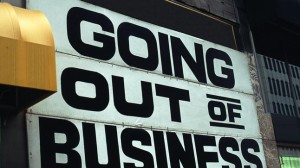 THE PRODUCT YOU'RE LAUNCHING HASN'T CHANGED FROM YOUR INITIAL IDEA
If you are launching a product that you sketched out on the back of a napkin and you haven't deviated from your original idea, then you're in trouble. It means that you haven't listened to your market. It is very rare (I'd even say impossible) that someone will have an idea that has product/market fit from day one. Every company has to have a period where its soul aim is to find what that product/market fit is and you need to be obsessive until you get there. This can involve anything from rewriting your product, changing your team, moving into a different market, or saying yes to opportunities you had never considered.
THE ONLY FUNDING YOU'VE ATTRACTED IS FROM FAMILY AND FRIENDS
This might sound contentious, but the reality is if the only funding you can attract is from family and friends, then signs are not great. Sure, they know you well and believe in you, but unless they have direct experience in the industry you're targeting, then you have nothing but fools' money. Even at the angel stage you need to try and attract money that you have had to earn, money that validates both you (investors invest in people) and your idea. Early stage funding is not that hard to come by these days (if the people and idea are solid), if you're not attracting that, then you need to think long and hard about what this might indicate.
YOU DON'T HAVE A CO-FOUNDER
Solo founders are weak founders. Your co-founder doesn't have to be a tech person if you're not one and vice versa, but you need a tight team with a solid vision, and skills that compliment each other. Finding the right founder is something that needs time and patience, but a strong team will beat a solopreneur any day. Paul Graham is well-known for famously listing the solo founder as one of the biggest mistakes a startup can make. A startup is simply too much work for one person
YOU'RE PURSUING MULTIPLE MARKETS AT THE SAME TIME
Small teams, on small budgets, need to focus. If you're pursuing all your options at once then you are spreading yourself too thin and you will fail. You need to find a focus and nail it before you move on to other markets. If you're having trouble getting traction in one area, fail fast and move on. But if you are focusing on one thing at a time, then when you find the right product/market fit you have a much better chance at success than if you were trying to establish other markets along with it.
YOUR MONETISATION ONLY KICKS IN AT SCALE
If the only way your BIG idea works is at scale, then … you're stuffed. This is the easiest way to set a startup for failure from day one. Don't do it. It makes your job twice as hard as it already is.
YOU HAVE NO DISTRIBUTION STRATEGY
So let's say you have a great product, you have product/market fit and you have a fantastic co-founder. How are you going to get your "world-changing" product out there? Your distribution strategy has to be part of the product from day one. How many times do founders have to say that they failed because they "never got traction" before we wake up to the fact that their failure was a simple one: they had no distribution strategy. How are people going to find your product? If your answer is advertising, then consider it GAME OVER already. How people find your product is part of your product, social sharing should be a key part of that strategy.
YOUR PRODUCT IS NOT SOFTWARE DRIVEN (OR HAS NO PLANS TO BECOME SOFTWARE DRIVEN)
Innovation is accelerating and software is the reason. In the words of Marc Andreessen: "… the minute you can take something that was not software and make it software, you can change it much faster in the future. It's much easier to change software than it is to change something with a big, physical, real-world footprint."
You might not be software driven from day one (hell, it's better if your minimum viable product is NOT) but that needs to be a temporary state.
Software implies one thing; that innovation is a driver. Remember in the future all companies will be technology companies.
*Alexis Knight (not her real name) has extensive startup experience in both running a startup, and working for an investment firm. This article originally appeared on pollenizer.com.
Go to our Prudential Finance Tech page