Australian Real Estate Yields
Residential, Commercial, Industrial and Retail across Sydney, Melbourne, and Brisbane.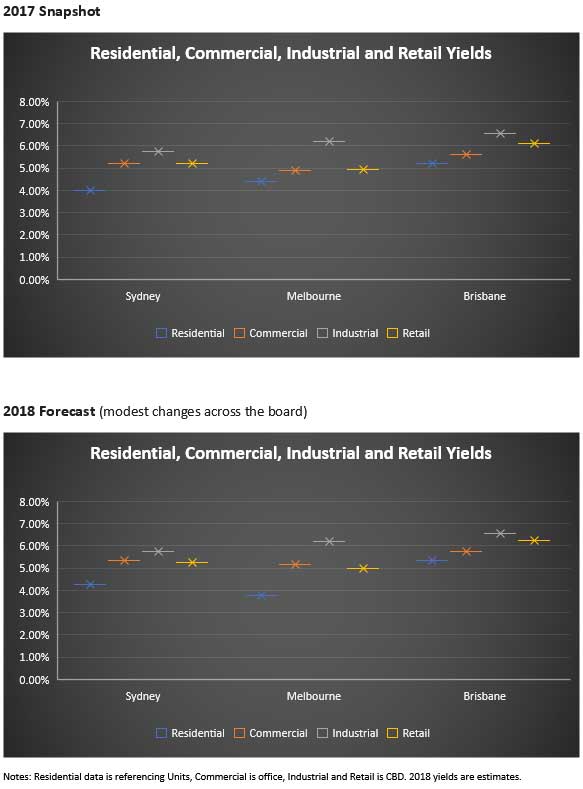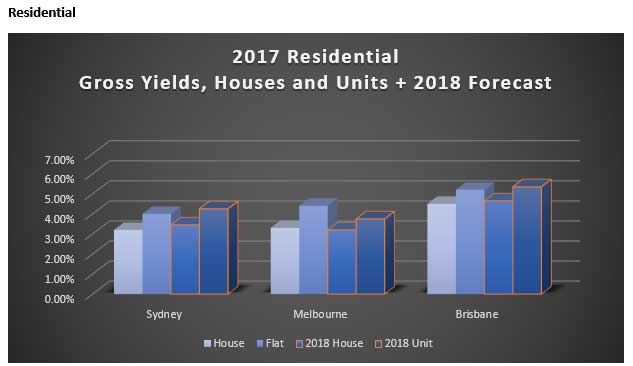 Sydney continues to perform in a balanced manner. Further supply expected for apartments. Overall rental market remains resilient with vacancy rates at the lows. Any pressure on growth or reduced demand for housing offset by further infrastructure investment scheduled.
Melbourne's momentum is impressive. Population growth continues to drive new investment. 2017 House price growth surpassed Sydney. Similar to Sydney Vacancy rates continue to compress. Supply will continue to grow over first half of the year. Plenty of activity in Melbourne's real estate market.
Brisbane market is operating with a stable tone. Similar with Sydney its expected to see a robust amount infrastructure investment that can offset any weakness in the housing market. Supply has been reduced as we have seen a vast amount of apartments built over last few years and the market is searching for the ideal supply/demand equilibrium point.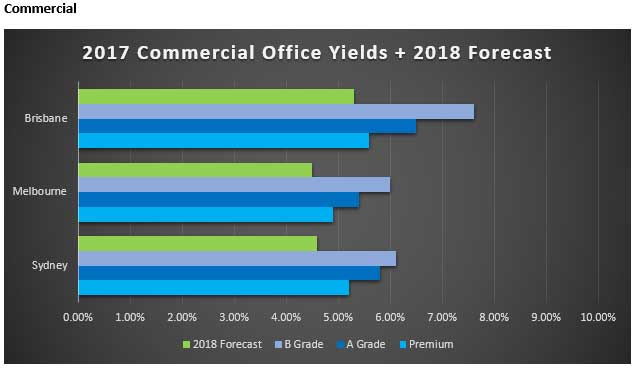 Sydney yields continue to tighten with supply remaining low. Strong rental growth is a trend that will continue. Overseas demand remains strong and its expected to gather pace this pace.
Melbourne forecasted rents are due to increase and remain well supported. Continued demand from domestic and overseas investors with supply unable to meet demand has seen further compression in yields.
Brisbane Vacancy rates are seen to increase modestly this year. Similar to Sydney and Melbourne prime office supply has been thin. Further overseas demand seen for high quality assets with strong tenants.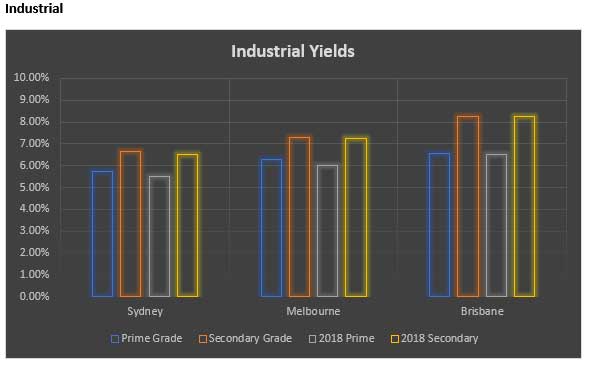 Sydney supply is low on a historical basis. There continues to be a need for larger size transactions. This creating an attraction for portfolio type opportunities. Infrastructure investment to drive higher valuations.
Melbourne's industrial construction levels are at a healthy level. Robust tenant demand continues to drive growth. Similar need for larger size investment opportunities is desired from domestic and overseas investors.
Brisbane's yield compression has been a common theme. Rental growth has been strong. Supply remains thin with similar demand from domestic and overseas investors.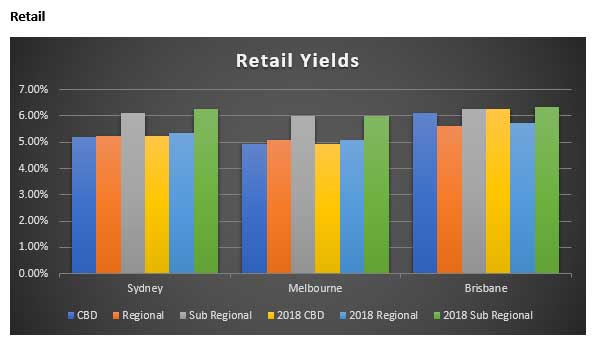 Sydney CBD Rents are at shockingly high levels. Development will be robust over the coming years. Yields have been somewhat resilient. Further superannuation and pension fund interest expected.
Melbourne's CBD rents seeing consistent growth with population boom being the driving force. Yields have been stable and expected to compress with investor demand for re-development to remain robust.
Brisbane CBD leasing market remains volatile. Overall turnover has been less frequent for areas outside CBD. Further development will be closely watched by the market while investors take a cautious stance.
J.O.
Disclaimer
"Prudential Finance recommends that investors consider their own objectives, financial situation and needs before proceeding with any investment and seek professional advice. All information contained within this Website is specifically structured for corporate, business, commercial, construction clients, wholesale and professional investors."